In order for teachers to learn how to use the arts in their classroom, proper teacher training programs must integrate the arts. There are many ways for teachers to learn about the arts and most of them take place in high school and college course work. When teachers want to use the arts in their classrooms, they can use their prior experience in doing art and turn that into a lesson. But this is not as easy as it sounds.
Teaching Artists
Instead many teachers turn to teaching artists who will bring and integrate many art forms or just one. Teaching artists are trained in how to use the arts in teacher classrooms through experience and through a sustained teaching artist training program. This professional training approach provides a set of courses and experiences that fully integrate the use of teaching with the use of teaching in and through the arts. The key to these programs is the careful integration of the arts that leads to improving student learning in any subject.
Below are just a few examples of teaching artist training programs that marry educational training with training in how to use the arts rigorously and effectively in classrooms. These descriptions are taken directly from their websites and the links are provided to investigate further.
Lincoln Center Scholars Program
"The Lincoln Center Scholars Program, a partnership between Lincoln Center Education and the Hunter College School of Education, was developed in response to the critical need for qualified, certified arts teachers in New York City Schools. Hunter College Lincoln Center Scholars are fully subsidized students working toward their Masters in Education in the Hunter College School of Education while also teaching full-time in a New York City classroom. You have access to intensive training at Lincoln Center Education, and upon successful completion of the program you receive a master's degree from Hunter College and are eligible for New York State initial teacher certification. Candidates interested in becoming a certified teacher in Dance, Music, or Theatre may apply. The full cost of tuition, fees, and books are covered by the Lincoln Center Scholars program.
Major support for the Lincoln Center Scholars Program is provided by the Laurie M. Tisch Illumination Fund.
Eligibility & Admission Requirements
A bachelor's degree from an accredited college or university, with a minimum cumulative grade point average of 3.0
A General Education core in the liberal arts and sciences to include artistic expression, communication, information retrieval, concepts in history and social sciences, humanities, a language other than English, scientific and mathematical processes, and written analysis and expression
The following credits in your artistic discipline

Dance: 34 credits in dance with a minimum 3.0 in dance courses
Music: a concentration in music with a minimum of 29 credits in music or the equivalent. Music courses must include

Three semesters of music history including at least two of western music history
Four semesters of music theory including at least two of traditional college music theory
Four semesters of musicianship (sight singing, ear singing, and keyboard studies)

Theatre: a major in theatre and 6 credits of English literature

Submission of official score report on the Graduate Record Examination (GRE)
Applicants must not hold a valid or expired teaching certification in dance, music, theater or visual arts from any state
Applicants who earned bachelor's degrees outside the U.S., or took 90 or more credits of undergraduate courses outside the U.S. must take the TOEFL exam in order to apply
Auditions and Interviews
Selected applicants will also be invited to an audition/interview.
Dance audition/interview
Develop and teach a 5-minute sample lesson
Participate in a 2-hour dance class that includes:

Ballet Barre
Contemporary Combination
Improvisational Activities
African/Caribbean Movement
Short Compositional Task in Duets or Trios
Peer Feedback

Applicants should wear comfortable clothing for dancing and be prepared to dance in ballet slippers (or other footwork suitable for barre work), as well as barefoot.
Music audition/Interview
Develop and teach a 5-minute sample lesson
Perform on your primary instrument or voice two or three representative works from different styles that demonstrate your proficiency and musicality. Memorization is recommended but not required. Applicants should present each of the jurors with a list of the pieces (not copies of the music).
Demonstrate keyboard ability by playing the Star Spangled Banner on the piano. Applicants can either use their own arrangement or download an arrangement.
The audition jury may also ask applicants to sight read, sight sing, play scales and chords at the piano and on their primary instrument, play a simple piece by ear, and perform similar tasks to demonstrate musical knowledge and ability.
Applicants should present each of the jurors with the name and affiliation (if any) of their current private teachers.
Applicants are required to provide their own accompanists. Upon request, Geoffrey Burleson, Director of Performance Studies, will provide names of suggest accompanists
Applicants should dress formally (men: coat and tie; women: dress, skirt and blouse, or formal pants outfit)
Theatre Interview
Develop and teach a 5-minute sample lesson
Interview with members of the Admissions Committee from Hunter College and Lincoln Center
Connect with the Office of Partnership Programs Admissions: soe.opp@hunter.cuny.edu
Yale School of Music; Be a Teaching Artist
YSM graduate student Teaching Artists are trained to mentor, teach and perform with urban children and young people, inspiring them as role models of discipline, education, artistry and excellence. Their work in NHPS music programs both contributes to the classroom and improves their teaching skills.
YSM Teaching Artists work 3-9 hours each week during the school year, in close collaboration with NHPS music teachers. They lead group lessons, work one-on-one with individual students, and assist with activities like music theory and ear training. Teaching Artists are matched with NHPS in-school music programs based on teacher requests and schedules. They may also assist with the All-City Honors Ensembles, Winter and Spring Festivals, and the Morse Summer Music Academy.
The instruction in all Yale programs for New Haven is based on two goals: mentorship and active music-making. These overriding goals are fully consistent with the mission of our school, and complement the standards-based music instruction in the New Haven Schools.
YSM Teaching Artists work closely with Lead Teacher Rubén Rodríguez to hone their skills in the classroom.
https://music.yale.edu/community/music-in-schools/teaching-artist-2/
TEACHING ARTIST TRAINING LAB
The Washington State Teaching Artist Training Lab (TAT Lab) supports teaching artists' capacity to partner effectively with K-12 schools and teachers. A key focus of the program is on developing strong learning plans, with clearly articulated arts learning goals, assessment criteria, and formative assessment techniques. TAT Lab also focuses on social justice in education, and creating a safe and inclusive learning environment for all students. We work on authentic approaches to incorporting 21st Century Skills and Habits of Mind along with arts skills and techniques.
TAT Lab is intended to support mid-career and experienced teaching artists, as well those newer to the field.
This training is appropriate for experienced professional teaching artists looking to enhance or refresh their work, particularly in the areas of assessment strategies and well-articulated learning plans, as well as newer teaching artists seeking foundational knowledge. Certified K-12 teachers, particularly arts specialists, may also apply to participate in TAT Lab; clock hours are available through OSPI at no additional cost. All participants will benefit from peer learning in a community of committed arts educators.
The seven-month program includes three in-person sessions in Seattle. Dates for the 2018-2019 program are:
September 20-22, 2018
November 2-3, 2018
March 14-16, 2019
Additionally, there are monthly phone conferences, and ongoing mentoring and support from faculty and peers.
TAT Lab tuition is $650. Financial Aid is available. Travel support, including lodging, is available for participants coming from outside of King County. We encourage arts education organizations to support professional development for their teaching artists by covering some or all of TAT Lab tuition.
TAT Lab is a program of the Washington State Arts Commission and the Office of Superintendent of Public Instruction, with major support from the National Endowment for the Arts, and hosted by Seattle Children's Theatre. Additional collaborating partners: Pacific Northwest Ballet, and the Seattle Office of Arts & Culture.
"All components of this program have been valuable! TAT Lab has empowered me to authentically redefine myself as a teaching artist. This experience has included one aha! after another. TAT Lab has been a powerful lens into strengths and weaknesses in my practice. I have learned SO much and will be a better teacher, and a better human, because of TAT Lab."
– TAT Lab graduate, 2018
TAT LAB APPLICATION PROCESS
The application deadline for the 2018-19 program is July 18, 2018.
Early applications are encouraged: applicants who submit their materials by June 11 will receive a $50 early-bird tuition discount.
To receive a link to the online application form, click here.
TAT LAB APPLICATION REQUIREMENTS
To learn more about TAT Lab, including program dates and application requirements, please download the complete TAT Lab Program Description, or visit https://www.sct.org/For-Educators/TAT-Lab.
CONTACTS FOR MORE INFORMATION
If you have questions, please contact Lisa Jaret (360-586-2418) or the SCT Education Specialist(206-859-4015).eacher TrainingNDI's training programs disseminate our renowned teaching methodology to educators and artists from around the world. For more information about NDI's Teaching Artist Training programs, please contact Aileen Barry, Senior Director of Education & Outreach.
NDI & The Art of Teaching
This 10-week course focuses on key aspects of the NDI methodology, such as effective classroom management techniques, teaching strategies for diverse learners, and the use of performance to motivate children to excellence.
NDI & The Art of Teaching is open to teaching artists, professional dancers, and classroom teachers passionate about dance and movement.
Fee: $500.
Upcoming Dates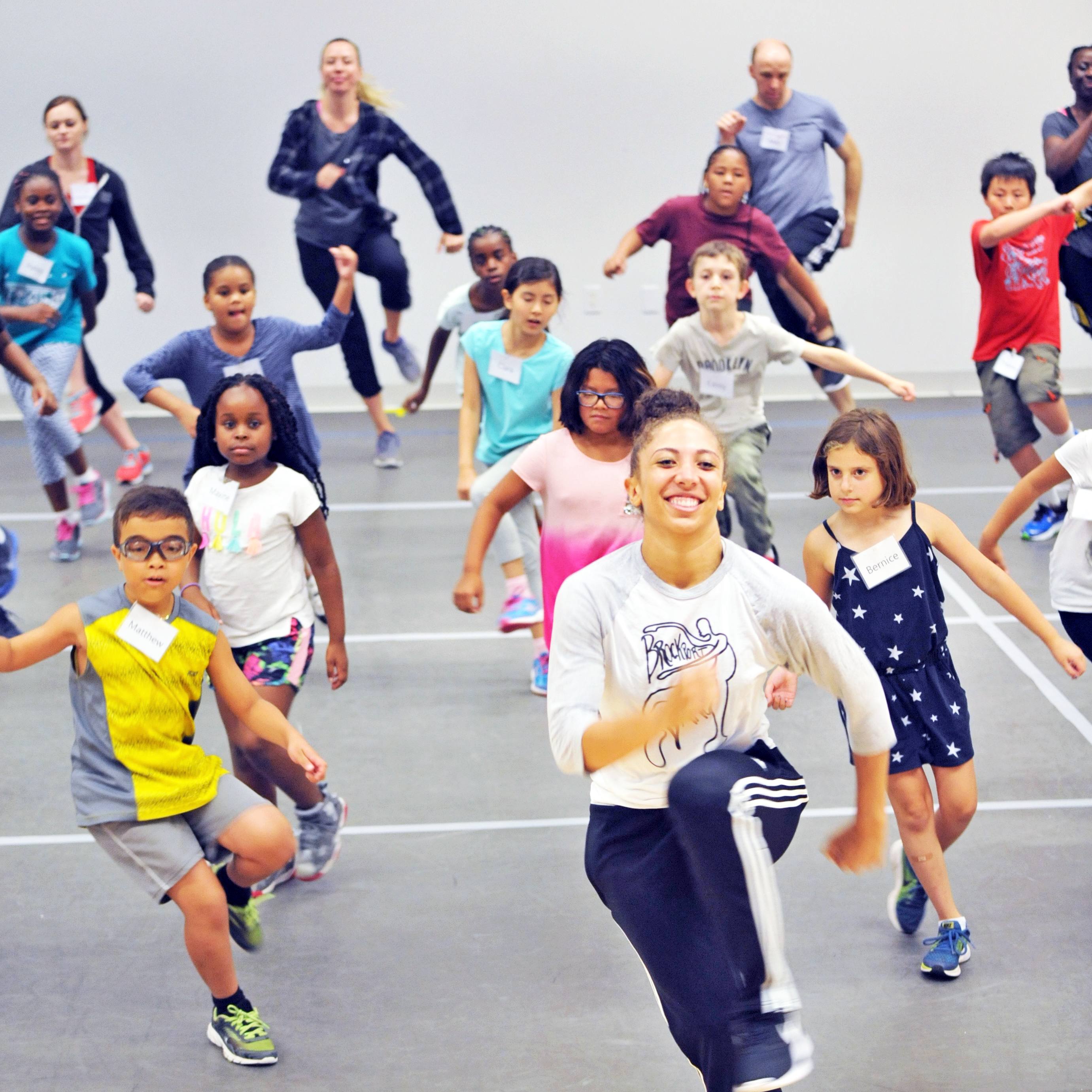 Two-Week Teaching Artist Training Intensive
The Two-Week Intensive is an immersion in NDI's renowned teaching techniques. Led by NDI's Master Teaching Artists, the training takes place at the NDI Center for Learning & the Arts in Harlem. Participants work directly with children, mastering the unique pedagogy that has been developed over NDI's 42-year history. Each year, professional artists and educators from around the globe emerge from this transformative experience with an advanced set of teaching tools that equip them to motivate, engage, and inspire diverse learners to excellence through the power of the arts.
The Two-Week Intensive includes daily teaching opportunities, choreography workshops, stimulating group discussions, and presentations from leaders in education. This enriching program culminates in a celebratory performance.
Successful completion of the Two-Week Intensive is a prerequisite for employment with National Dance Institute.
Fee: $1000 (scholarships available by application).
Join us for an introduction to NDI's unique teaching methodology! Experience a joyful and energizing dance class led by NDI Master Teaching Artists, and explore our core techniques and their application to diverse classroom settings. Connect with colleagues in the field and learn more about training and employment opportunities with NDI.
Professional Development
NDI offers tailored workshops for arts organizations, community centers, and schools. We design plans that meet your unique needs and improve the teaching of dance in your organization. We also offer musician trainings that equip professional musicians with the foundational tools necessary to support an NDI-style program.
Recent Professional Development Workshops:
National Child Research Center, Washington, D.C.
Ballet Nova, Washington, D.C.
BalletX, Pennsylvania
CityStep, New York
Community-Word Project, New York
Dance Education Laboratory (DEL), New York
Dance Theatre of Harlem, New York
Houston Ballet, Texas
Kids Dance Outreach, Indiana
Mark Morris Dance Group, New York
Mount Holyoke College, Massachusetts
Turnaround Arts, Washington, D.C.