Values Based Education is a quickly spreading school reform movement in England that seems to call for our attention here in America. "Values-based schools emphasize values education in their curriculum and teaching. As a consequence students become more academically diligent, the school assumes a calmer, more peaceful ambience, better student-teacher relationships are forged, student and teacher wellbeing improves and parents are more engaged with the school" (VALUES BASED EDUCATION). I offer two pieces of evidence, one from their home page and one from an article written by the guardian. You decide!
From the VALUES BASED EDUCATION website:
Improvement in academic performance at Chantry Primary School since commencement of Values-based Education.



Chantry Primary School, Luton, UK


Behavioral Impact

Improvements in behaviour are reported throughout VbE schools. We have not formalised the impact into statistically analysed charts. But Bath Spa University carried out research into a similar field to VbE, Emotion Coaching. Below are the statistically significant changes they found after the first year of coaching, relative to the year prior to the coaching.



Melksham Oak Community Secondary School, Wiltshire, UK


Lowest 20th Percentile

Improvement in pupil engagement of bottom 20th percentile of Airds School Cluster, since commencement of Values-based Education



Airds School Cluster, New South Wales, Australia


Impact of VbE on Schools

Below is an extract of the findings from an academic study into the impact of Values-based Education. To download the full report from which the information is extracted, click here.


Values-based schools emphasise values education in their curriculum and teaching. As a consequence students become more academically diligent, the school assumes a calmer, more peaceful ambience, better student-teacher relationships are forged, student and teacher wellbeing improves and parents are more engaged with the school.

Explicit teaching of values provides a common ethical language for talking about interpersonal behaviour. It also provides a mechanism for self-regulated behaviour. An important outcome is a more settled school which enhances quality teaching and enables teachers to raise expectations for student performance.

Academic Diligence
Student academic diligence was enhanced. Students:
showed increased attentiveness in class and a greater capacity to work independently;
assumed more responsibility for their own learning;
asked questions and worked together more cooperatively;
took greater care and effort in their schoolwork;
took more pride in their efforts.

School Ambiance
The improvements in School ambience included:
conflict among students decreased or was managed more constructively;
students demonstrated greater empathy, honesty and integrity;
more tolerant and cooperative student interactions;
safer and more harmonious classrooms and playgrounds;
greater kindness and tolerance among students;
students actively seeking to include peers without friends;
students taking greater responsibility with school equipment and routine tasks;
students treating the school buildings and grounds 'with respect'.

Student-teacher Relationships
The impact on student-teacher relationships was evidenced by:
more trusting relationships between staff and students;
the establishment of more democratic classrooms;
teachers giving students more power by allowing them choices in learning activities;
teachers being more conscious of scaffolding students to manage their own behaviour or resolve conflict with others;
teachers seeking opportunities to acknowledge and reinforce appropriate behaviour;
teachers listening to students and responding to their concerns and opinions;
students perceiving that teachers treat them fairly;
students behaving more respectfully towards teachers;
students showing greater politeness and courtesy to teachers.

Student-teacher Welbeing
The positive impacts on student and teacher wellbeing included:
students feeling a greater sense of connectedness and belonging;
students gaining a greater capacity for self-reflection and self-appraisal;
students developing a greater capacity for regulating their own and their peers' behaviour;
teachers receiving collegial support and strong leadership;
teachers obtaining confidence and knowledge through opportunities for professional development and through staff collaboration;
teachers re-examining their practices and role;
the fostering of relational trust among staff and between teachers and families.

When Values Education is explicit, a common language is established among students, staff and families. This not only leads to greater understanding of the targeted values but also provides a positive focus for redirecting children's inappropriate behaviour. Teachers perceive that explicitly teaching values and developing empathy in students results in more responsible, focused and cooperative classrooms and equipped students striving for better learning and social outcomes. When values are explicitly endorsed, acknowledged and valued within a school culture, it becomes incumbent on schools to ensure that staff, as well as students are both benefactors and recipients in respectful and caring interactions. The common focus draws teachers together to create a collaborative and cohesive school community which supports teachers to do their job more effectively. This has important ramifications for students' academic progress and wellbeing.
One of the articles in the Guardian describes what is happening in one school:
Schools revive 'touchy-feely' approach
A growing number of schools are seeing the benefits of adopting 'values-based' learning in a fightback against the current competitive culture in education.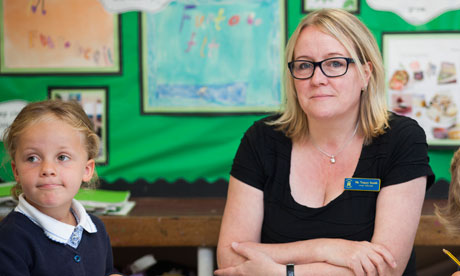 Tracey Smith, headteacher of Tower Hill primary school, with one of her pupils. Photograph: Sam Frost
The pupils file in quietly class by class, the school hall lit from the front with five candles on a table. Soft music plays in the background and images of the pupils taken at various times of the year appear as a slideshow. It is the last assembly of the academic year at Tower Hill primary in Witney, Oxfordshire, and an opportunity for staff and children to reflect on the last 12 months.
Brandon comes forward and tells the school how he learned to curb his anger. He now counts to 10 if someone has made him cross. Annie says pupils tend not to tell lies any more or try to "get out of" something they have done wrong. Alana says she is proud of the moment she persevered with a difficult task in class when it might have been easier just to give up.
This school is located in the heart of David Cameron's Witney constituency in west Oxfordshire, but its philosophy is some way removed from the culture of change and competition brought to the system by Cameron's government via its education secretary. "Michael Gove would consider our approach far too ephemeral and touchy-feely," says Tracey Smith, the headteacher. "But we would like him to visit us, and will be extending an invitation, so he can see what we're achieving here in a stable, happy environment. It might do his public image a lot of good if he did not appear so rigid in his thinking."
Tower Hill is one of a growing number of schools in the UK that have adoptedvalues-based education, a fast-growing movement set up by a former Oxfordshire headteacher, Neil Hawkes. The ethos embraces qualities such as respect, courage, honesty, compassion and integrity among the school community, underpinned by high expectations. Its proponents believe that this ethical vocabulary, which is used and understood even by the youngest children, creates the ideal environment for learning by promoting a peaceful and calm atmosphere.
Hawkes, whose movement has grown to include more than 2,000 schools throughout the UK, 49 of which have received its "quality mark", says values-based education is spreading largely by word of mouth as schools recognise its effectiveness. "It empowers them to produce good results because it builds character. When children use the vocabulary of ethics they gain confidence and self-respect, and respect for others. Maths and physics have a vocabulary and so should ethics. These are innate qualities we have as human beings, which need to be developed like all skills do." Some areas of the country have large clusters of schools using this idea, he says, including south Wales, Herefordshire and Bedfordshire.
Just one year after arriving at Tower Hill, Smith is achieving remarkable results. Overall, 85% of the latest cohort of year 6s has achieved the benchmark level 4 score in national curriculum tests in English and mathematics, a rise from 65% last year. Nobody would describe Witney as a disadvantaged area but this school does not mainly serve the affluent "Chipping Norton set" or their like. In this school more than 30% of children are entitled to free school meals, against a national average of 19.3% in primary schools and an Oxfordshire average of 9.8%. A third of pupils here have special needs.
But for Smith primary education is not about passing tests, though student progress is tracked regularly. "We don't teach to the tests because we don't need to – the majority of our pupils will pass them anyway because they learn what they need to know through our creative approach," she says.
Her application for the headship dropped on the mat at Tower Hill at a time when the school was improving after a difficult few years of mediocre results and falling rolls. At her previous school, a Church of England primary, Smith had introduced values-based learning because she felt uncomfortable preaching about ethics in a religious context. "Values are not exclusive to Christianity but something everyone should aspire to," she says.
Liam Walsh, the chair of governors, says: "We had a strong field of candidates, but Tracey's application and interview stood out. We had not explicitly been looking for a values-based approach, but implicitly it appears that this was what was needed. The simplicity of the idea really struck a chord."
The school's motto, Be the Best You Can, applies not only to the work done in the classroom, but also in staff and pupils' behaviour and their relationships with each other. The sentiment behind it was noted by the prime minister himself when he visited the school at the end of term. "I have seen a very confident headteacher and a very confident team doing great things in this school to raise its profile and results and to make sure pupils are getting the education they deserve," he said.
Yet this school faces uncertain times. The day before term ended, Oxfordshire county council sent out a letter to all primary heads saying it would assist any schools choosing to convert to an academy and that it supported the government's programme. The idea does not sit comfortably with Smith, but she knows that Tower Hill will have to consider it, should other schools begin to go down that route.
In a school that promotes stability and calm it is a potential upheaval and worry that Smith feels it can do without. "We seek to create an environment where children feel happy, secure and can thrive because this is the very foundation of good learning, so this is an unwelcome distraction," she says.
Although the wellbeing of pupils is no longer inspected as part of the Ofsted process, inspectors are expected to take account of children's spiritual, moral, social and cultural development. "The first 'value' we introduced was respect, which was the theme for most of the first term," recalls Louise Conroy, the teacher who, with the head, has led the implementation of values-based learning. She recalls a football match when Tower Hill players approached the other team at the end of the game with outstretched hands, which their opponents refused to shake because of a disputed goal. "We saw then that our pupils had understood the concept of respect very quickly."
At lunchtimes a family scenario is created in the dining hall with pupils and teachers sitting in groups and serving each other. No one eats before everyone has their food. "It teaches them manners and creates an environment that some may not get at home," Smith says.
It has become accepted practice in the classroom for pupils to comment openly on each other's work, through a system of peer assessment, and for teachers to make suggestions for improvement. Previously many children would have felt threatened or criticised by such an approach, but an atmosphere of openness now pervades.
Trust and self-esteem have grown as children reflect on their learning as well as their own behaviour and that of others, and every day is seen as an opportunity to start again and to get right things that had previously gone wrong.
"We hope that if nothing else these methods will enhance their life chances," Smith adds. "If they go into a university or job interview and show good manners then that will help them. We want these children to have the same opportunities as everyone else.
"A child has to be happy to come to school and learn effectively, and we spent a lot of time talking to children about what they want to learn. This is something that Michael Gove seems to find hard to understand. It is as though he is trying to recreate grammar schools, even at primary level, but that is not the way to instil a love of learning in young children or to help them succeed."